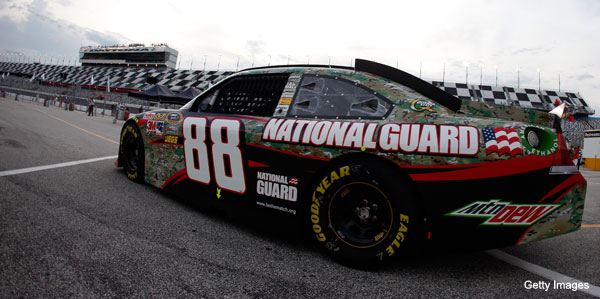 Sometimes, we all need to remember just how big NASCAR really is.
Lost in all the hue and cry about attendance and ratings and allegedly vanilla drivers is the fact that this is one enormous sport with a vast reach. Proof? Forbes has just released its list of the Most Valuable Sports Brands, and Dale Earnhardt Jr. and the Daytona 500 both ranked No. 7 on their respective lists (athlete and event).
First, Junior. Numbers like this are why he continues to draw interest despite the fact that his winless streak now extends over three years. Earnhardt has a brand value of an estimated $9 million, putting him in an ultra-elite class. Only Tiger Woods, Roger Federer, Phil Mickelson, David Beckham, LeBron James and Kobe Bryant ranked higher than Earnhardt. That's right: no NFL player, no baseball player, no full-time Olympian has a stronger brand value than Earnhardt.
NASCAR's marquee event, the Daytona 500, also ranks seventh with a brand value of $112 million. Beleaguered in recent years by rain and potholes, the 2011 event had an amazing storyline (first-time winner Trevor Bayne) and virtually every major name in the sport at the front of the pack at one time or another, helping the race to see increases in both attendance and ratings. Only the Super Bowl, the Summer Olympics, the World Cup, the World Series, Champions League soccer and the Winter Olympics outdistanced the Daytona 500.
Overall, Nike is the world's most valuable sports brand, with a worth of $15 billion. Next up is ESPN, with estimated worth of $11 billion; adidas, Sky Sports and Gatorade round out the top five.
The purpose of such lists can help solidify in the public's mind the value of a given asset, and it's obvious proof that victory alone isn't necessary for brand value. (Note that this doesn't just apply to Earnhardt; Tiger Woods hasn't won in almost two years, and LeBron James continues to seek his first ring.) Bottom line, though, NASCAR remains a major player in the sports world. Always good to keep in mind.
-Follow Yahoo! Sports' From The Marbles on Facebook, on Twitter at @jaybusbee, and now on Google+.-
Forbes: Dale Earnhardt Jr., Daytona 500 rank among the world's most valuable sports brands
Incoming search terms:
Dale Earnhardt Jr is one of the top-10 most valuable brands in all of sports