The complainers got their wish, as finally a Sprint Cup Series event didn't finish under the uncertainty of fuel mileage at Dover. Oh, and the rain mostly held off for the second straight week. Let's celebrate, and dive in to the weekend that was.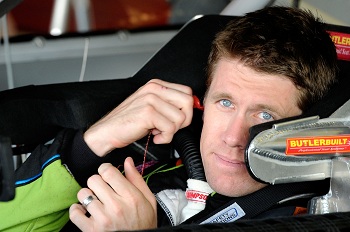 HOT: If Carl Edwards was aiming to silently slip in to the Chase for the Sprint Cup points lead after three races, he's done a remarkable job. And if earning his first pit road speeding violation of the season was some mysterious way of throwing the rest of the field off of his scent, well, job well done.
Okay, okay — that second part may be a stretch. But the first part is very real, as Edwards is now tied with Kevin Harvick for the lead of the 2011 championship fight with seven races to go. The upward swing for Edwards has come courtesy of a fourth-place finish at Chicagoland, an eighth at Loudon and a third last Sunday at Dover. In that span, Edwards has led 157 laps.
In other words, Edwards' start to his latest bid to win his first Sprint Cup title has been virtually all roses — or at least the type of roses that get picked last on Valentine's Day because they don't compete with the brightest reds in the selection. He's done enough to get to the top, but isn't getting much notice.
It's the start Edwards needed to the Chase if his career averages at the race tracks remaining are any indication of his 2011 success. There's no getting around it — three of the next five races in the Chase rank as some of the lowest for Edwards in terms of career average finishes.
Kentucky aside, Edwards' career average finish of 20.9 at Talladega makes it his worst average track on the schedule. Martinsville is 20th of the 22 tracks, with Edwards averaging a 17th-place run on the short track. Texas, oddly enough a place where Edwards has scored four career wins, ranks 18th on Edwards' list with an average finish of 16.5.
Still, two races remain for driver No. 99 to build some more buffer in case the averages play true. This week at Kansas, Edwards comes to a track where he has three top 5s and an average finish of 11.4. He finished fifth at Kansas in the spring race.
Following Kansas on the schedule is Charlotte, Edwards' 11th-best track by average. A 16th-place run in May's Coca-Cola 600 dropped his average Charlotte result slightly to 13.3.
The good news for Edwards, though, sits at the end of the Chase schedule. Should Carl stride through the next four events holding par, he'll arrive in Texas staring at three tracks where he's accumulated six of his 19 career Sprint Cup wins.
Oh, and that final race of the year at Homestead? It's only Edwards' best track by average with his two wins and career average finish of 5.7.
Let the plot thicken.
Now, to judgement calls, with a hint of concrete and bluegrass:
HOT: Jimmie Johnson did exactly what he needed to recover from his 18th-place New Hampshire finish. Were the concerns overblown? Possibly. But he was just one loose wheel, such as the one teammate Dale Earnhardt Jr. had at Dover, away from seeing his championship hopes flying quickly away.
They didn't, and as expected, Johnson is still in the the hunt.
HOT: Kurt Busch referred to Jimmie Johnson as his "arch nemesis" after beating Johnson to the line Sunday. I haven't used that phrase since I discussed cartoons like the Power Rangers or the Teenage Mutant Ninja Turtles as a kid. Here's to hoping that makes a comeback.
Oh, and that was a really nice rally for a win by team No. 22. Unexpected, indeed.
NEUTRAL: Power steering woes dropped Brad Keselowski to a 20th-place finish after Sunday's race. He'll need a rally — and has no more mulligans — to stay as a legitimate Chase contender.
NEUTRAL: Tony Stewart and Jeff Gordon both didn't do what they needed Sunday to make winning the championship a highly-likely task. Can they recover?
HOT: Richard Petty Motorsports knocked in a seventh-place run from A.J. Allmendinger and a ninth-place run from Marcos Ambrose. That's big for that team. Can they continue a climb to a possible Chase berth in 2012?
NOT: At some point, I need to stop being impressed that Denny Hamlin has fallen off the face of the Chase world. But he has, and it blows my mind.
NOT: Boy, that Nationwide Series race with Carl Edwards, Brad Keselowski, Clint Bowyer and Kasey Kahne leading the way was a doozy, wasn't it? Yawn.
HOT: Ron Hornaday won his 50th career Camping World Truck Series race Saturday night at Kentucky Speedway for a feat that was both commendable, impressive and had a tinge of concern for the future. Hornaday faces an uncertain future with Kevin Harvick Inc. going away.
However, his driving late in the race to hold off Austin Dillon (notably how he used lapped trucks as picks) was fun to watch — even on DVR. Oh, and there were no Cup drivers to stink up the show either. Refreshing.
HOT: Let's also give a call to a Nelson Piquet Jr., the ex-Formula 1 driver, who finished fourth in Kentucky's truck race. It was Piquet's fourth top 5 of 2011, and the guy who some have written off as merely a ride-buyer led 40 laps of the Kentucky 225.
Hot/Not: Carl Edwards is striding early in the Chase